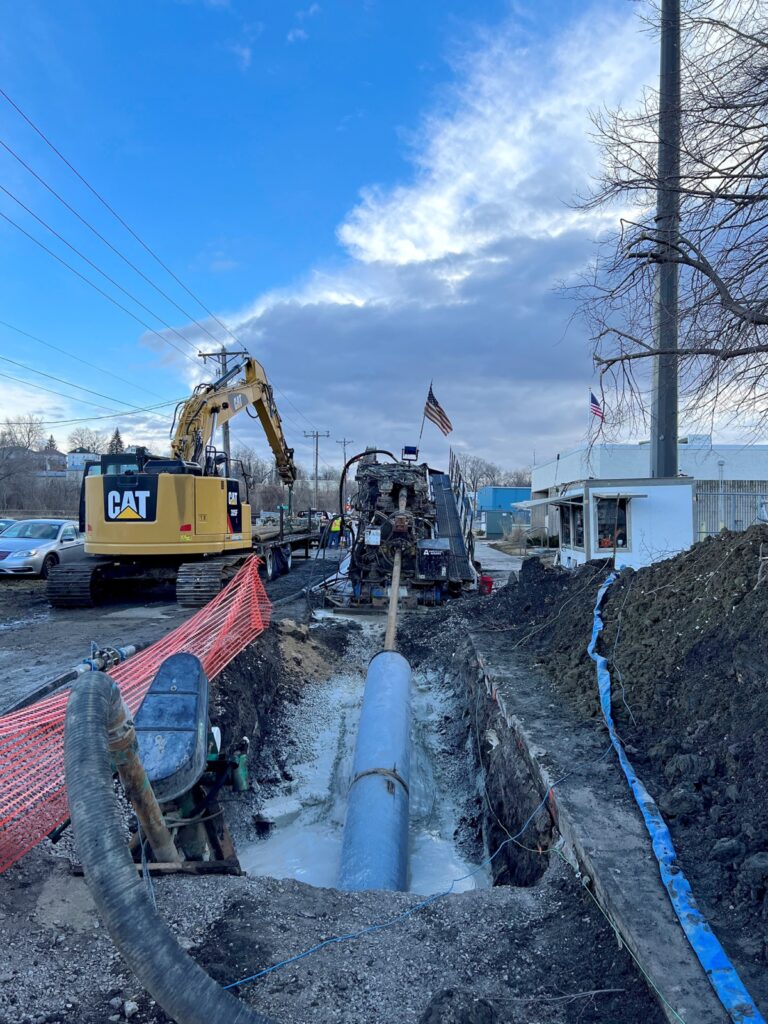 The Des Moines River Water Main Crossing at Vine Street has received an Honor Award in the Water/ Wastewater Category for the 2023 Engineering Excellence Awards Competition by the American Council of Engineering Companies Iowa Chapter (ACEC-IA).
Due to river ice-induced damage to a 100+ year-old, 10-inch diameter, cast iron water main crossing the Des Moines River, the city of Ottumwa had to find a solution replace this asset to maintain redundancy and fire protection. Complicating the project was subsurface contamination associated with legacy industrial operations on both sides of the river and existing in-service sanitary sewers within the project corridor.
The solution… Horizontal Directional Drilling (HDD) to install 12-inch diameter HDPE DR 9 pipe. To overcome the concern of legacy contamination and the existing sanitary sewer infrastructure, the HDPE water main was inserted through steel casing until bedrock was reached, followed by grouting in the casing and annular space. Further protection of contaminate fluid migration was accomplished by grouting the bedrock annulus around the HDPE pipe.  Additionally, a special welded end plate connection was designed which allowed a ductile iron water main fitting to be connected to the HDPE to prevent subsurface contaminated media from entering the new water main.
The successful Vine Street water main replacement is the first instance of a water main of this material and size being constructed via trenchless methods beneath the Des Moines River in Ottumwa, Iowa. Other river crossings exist in the area, but these consist of pipes fixed to bridges, or dredged along the riverbed. Since Ottumwa Water and Hydro (OWH) was unfamiliar with longer HDD installations like this one, the project team worked collaboratively with OWH to educate, mitigate risks and develop a level of comfort with the HDD method. The educative approach also aided in the approval of the Iowa DNR variance.
Horizontal Directional Drilling (HDD) with HDPE pipe is used for this type of water main installation. The design team had to consider several unique aspects which included mitigation of potential containments, crossing of sanitary sewers, crossing of levees and large box sewers. Therefore, the combination of these resulted in a relatively complex HDD project.