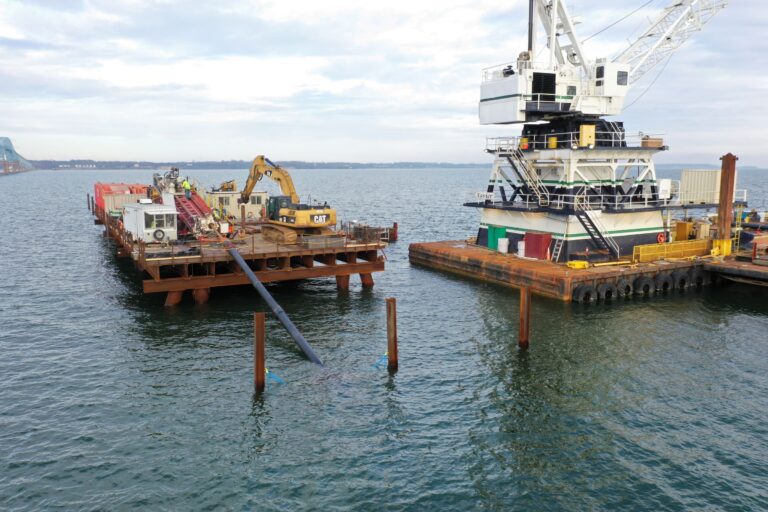 Dominion Energy Virginia retained the team of Mears Group, Inc., Brierley Associates, and POWER Engineers to design and install six separate parallel bores to carry electrical distribution lines beneath a 1.9-mile-wide section of the Rappahannock River.  Successful delivery of this complex and challenging utility crossing was honored by Trenchless Technology magazine who awarded the prestigious Project of the Year for New Construction for 2021 to the Mears team.
Brierley Associates served as the designer and Engineer-of-Record for the HDD installations.  These included six separate, parallel bores, each designed to contain an 8.625 inch OD steel pipe and a plastic conduit for fiber cable. The bores were separated by approximately 20 feet horizontally and required two marine platforms that utilized intersect drilling with shore landings accomplished by land-based drill rigs.
Our team developed HDD plan and profile drawings for three (3) parallel crossings of electric and fiber conduit pipes, entry and exit site plans, cross sections at selected locations, details of splice locations in river. Brierley also characterized the geotechnical conditions, and prepared detailed hydrofracture analyses.  In addition, we completed pipe pull load and pipe stress calculations for each of the installations. We also assisted Mears with the procedure, analysis and engineering for the pipe overboarding process.
Read the Trenchless Technology article here.