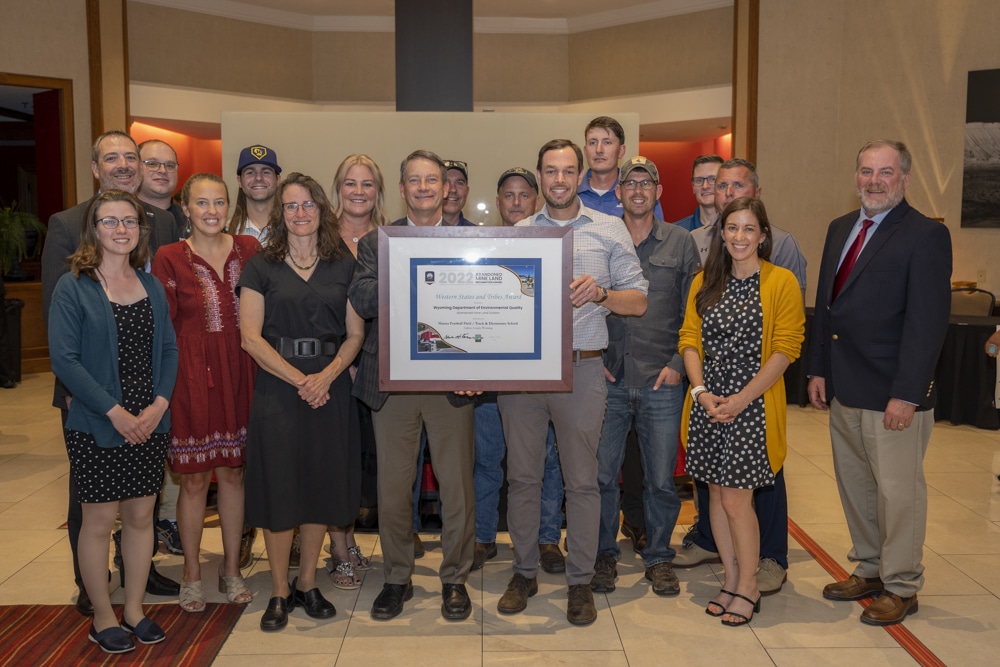 The Office of Surface Mining Reclamation and Enforcement (OSMRE) honored the Wyoming Department of Environmental Quality Abandoned Mine Land Division during the National Association of Abandoned Mine Land Programs conference in Grand Junction, Colorado, on October 17. The project in Carbon County, Wyoming, at Hanna Elementary School and the adjacent high school football field and track won the OSMRE's Western States and Tribes Region Reclamation Award for 2022.
"The Abandoned Mine Land Reclamation Awards showcase exceptional reclamation projects done by our state and Tribal partners," said David Berry, director of OSMRE's Western Region.
The football field and track and the adjacent elementary school building and parking lot are located atop mine workings of the Hanna No. 4 Mine. Subsidence—sinking of the ground because of underground material movement—would routinely appear in the football field and around the school.
In 2020, the Wyoming AML retained Brierley Associates to undertake the task of mitigating the subsidence risk in this area via voidfill grouting. Approximately 42,500 cubic yards of voidfill grout was injected into mine voids under the Hanna Elementary School, football field/track and surrounding areas, enough to fill 13 Olympic swimming pools. Upon completion of the mitigation, the football field, track, school parking lot and school playground were restored.
"This was a very difficult project due primarily to the strict, but necessary, time commitments made to the school district for completion prior to football season," said Wyoming AML Administrator Don Newton. "The coordinated efforts between the Town of Hanna, Carbon County School District #2, Howard Concrete Pumping Co., Inc. and its subcontractors, and Brierley Associates resulted in an excellent outcome for this small community."
Wyoming is among five recipients of the 2022 Abandoned Mine Land Reclamation Awards recognizing reclamation excellence. A National Award is presented to the state or Tribe with the best overall reclamation project. A Small Project Award is presented to the state or Tribe that receives less than $6 million annually in AML funding and completes a project costing less than $1 million. Regional awards are presented to the state or Tribe with the best project within each of the following regions: Appalachian States, Interior States, and Western States and Tribes.
The Abandoned Mine Land Reclamation Awards, established in 1992, recognize exemplary state and Tribal reclamation projects that reclaim coal mine sites that were abandoned prior to the signing of the Surface Mining Control and Reclamation Act of 1977.