Climate change has certainly created havoc in some U.S. towns and cities. In many places there's either too much water or too little. To combat these climatic shifts, municipalities are becoming creative in implementing infrastructure projects that mitigate the problems associated with an abundance of stormwater, or a lack of stormwater. Holding and processing excess stormwater or combined sewer overflows helps communities reduce flooding and significantly reduces overflow discharges to keep local waterbodies clean. Water is now universally understood to be a finite resource, and at-risk communities are using reclaimed water to solve myriad problems.
Municipalities are rethinking what to do with water that is not suitable for drinking or poses localized flooding and pollution problems. No longer do water systems have to decide between sustainability and affordability.
Storage Solutions for Combined Sewer Overflow
In our nation's capital, DC Water has been addressing the deficiencies of their century-old sewer system with the Clean Rivers Project. One of the most important components to the Project is the Northeast Boundary Tunnel (NEBT), a 23-ft diameter tunnel that is approximately 27,000 feet long. The tunnel will capture combined sewer overflows and hold them underground until treatment capacity is available. Once the NEBT is connected to other tunnels in the Clean Rivers system, combined sewer overflows to the Anacostia and Potomac Rivers will be reduced by 98 percent, and the chance of flooding in the areas it serves from approximately 50 to 70 percent in any given year. A joint-venture for the NEBT comprising Salini Impregilo and Lane's S.A. Healy (SIH) is leading the Design/Build Team with Brierley Associates serving as the Prime Designer and Engineer-of-Record.
Tunnels can initially be costly to design and build, but they offer a lasting, economical, and environmentally sound solution, particularly in dense urban areas where flooding is prevalent. They can serve to limit combined waste and stormwater sewers discharge into local waterbodies and important ecosystems. Tunnels are often easier to maintain than green infrastructure, and less expensive, long-term, than expanding wastewater treatment capacity.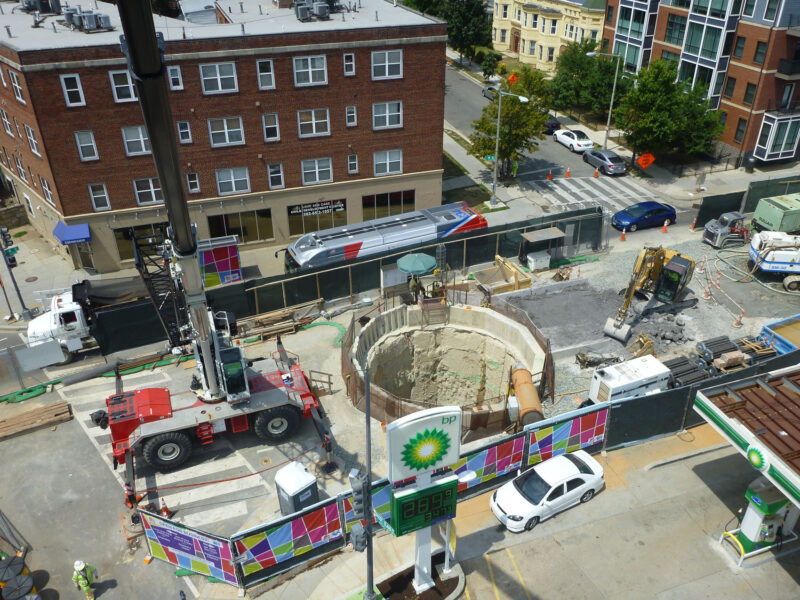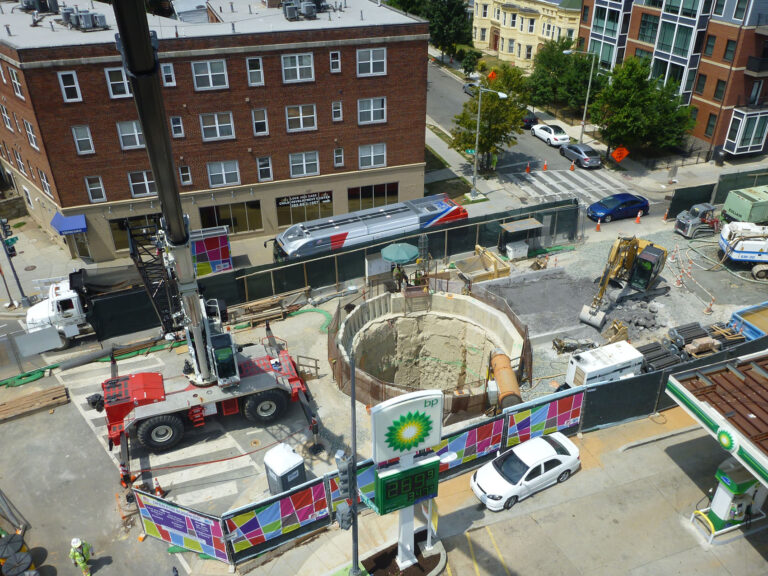 In Minneapolis, the I-35W stormwater tunnel system constructed in the 1960s carries stormwater runoff from the interstate highway and the surrounding neighborhoods. Commercial and residential development in the area has subsequently increased the volume of storm water directed into the tunnels, resulting in damage to the tunnel system through repeated surcharge cycles, as well as flooding of the highway when the system is filled above its design capacity. Brierley Associates is part of a team providing design services for a stormwater storage facility to mitigate flooding by storing stormwater in an underground structure within the I-35W right-of-way, constructed using a series of 6 slurry diaphragm wall cells each approximately 46-ft in diameter and 80-ft deep. The system will store 4.79 million gallons of stormwater when complete.
Project Clean Lake is a $3 billion, 25-year program that the Northeast Ohio Regional Sewer District (NEORSD) is employing to meet federal Clean Water Act standards and address water quality issues. The projects include seven large-diameter deep tunnels, along with other near surface projects, that NEORSD will use toward Project Clean Lake's overall goal to reduce the 4.5 billion gallons of wet weather combined sewer overflows (CSOs) released into Lake Erie and its tributaries in the Greater Cleveland area. Brierley Associates' involvement in NEORSD projects include shaft design for Dugway West Interceptor and Westerly Storage Tunnel. More recently, the firm was was involved in the Shoreline Storage Tunnel including the design of several shafts and drop structures to enhance drainage and storage capacity.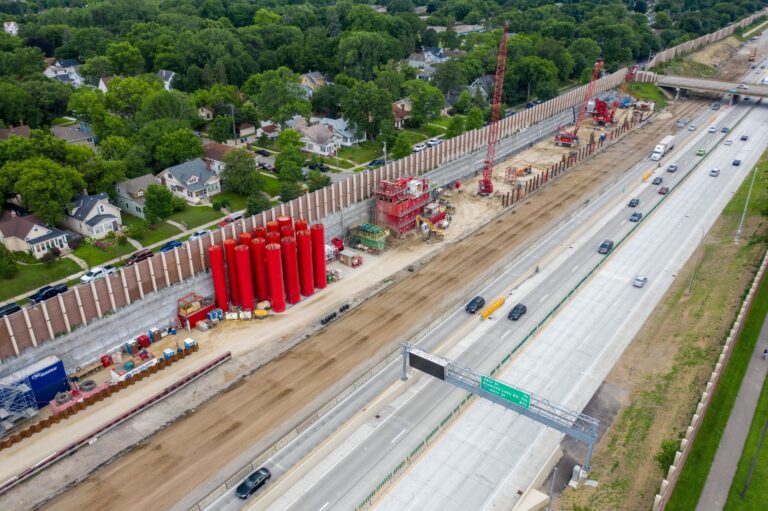 Recycled Wastewater
The WateReuse Association (www.watereuse.org) projects that by 2027, the volume of recycled water produced in the United States is projected to increase 37% from 4.8 billion gallons per day to 6.6 billion gallons per day. Today, recycled wastewater is being used for agricultural, industrial, and ecological uses across the U.S. It's used to irrigate golf courses and provide snow for ski slopes, replenish wetlands, cool electrical generation facilities, and data centers, and is being reinjected into the ground to recharge aquifers.
Communities such as Pinellas County, Florida, have become leaders in water reuse by installing dual systems that deliver graywater via a separate distribution system. In Austin, Texas, reclaimed wastewater is available for irrigation, flushing toilets, and washing cars. This reclaimed water is less expensive to use or treat and can be as little as one-third the price of drinking water, giving users an economical and environmental alternative. (Reclaimed Water FAQ | AustinTexas.gov). And California recently announced a $80 million investment in the development of a large-scale water recycling program, Pure Water Southern California, which will divert wastewater from the ocean and provide additional clean water to 19 million people.
In southwestern Virginia, the Hampton Roads Sanitation District is developing the SWIFT (Sustainable Water Initiative for Tomorrow) program to reinject tertiary treated wastewater via deep wells that will serve to reduce wastewater discharge into the Chesapeake Bay. By recharging the aquifer, it will also limit salt water intrusion into the underground aquifers and possibly reduce locally high relative sea level rise. As part of the SWIFT program, Brierley Associates is a key member of an interdisciplinary Design/Build team contracted to design and construct a large raw sewer pipeline extending beneath the James River.
Last year, the U.S. Environmental Protection Agency (U.S. EPA) announced a new federal Water Reuse Interagency Working Group, which is charged with developing and coordinating actions, tools, and resources to advance water reuse across the country.
Projects that were once considered cost-prohibitive are now being seen as economical long-range solutions to our water resource problems.
Gray truly is the new green.